Farm Bureau president urges House panel to address fire dangers
---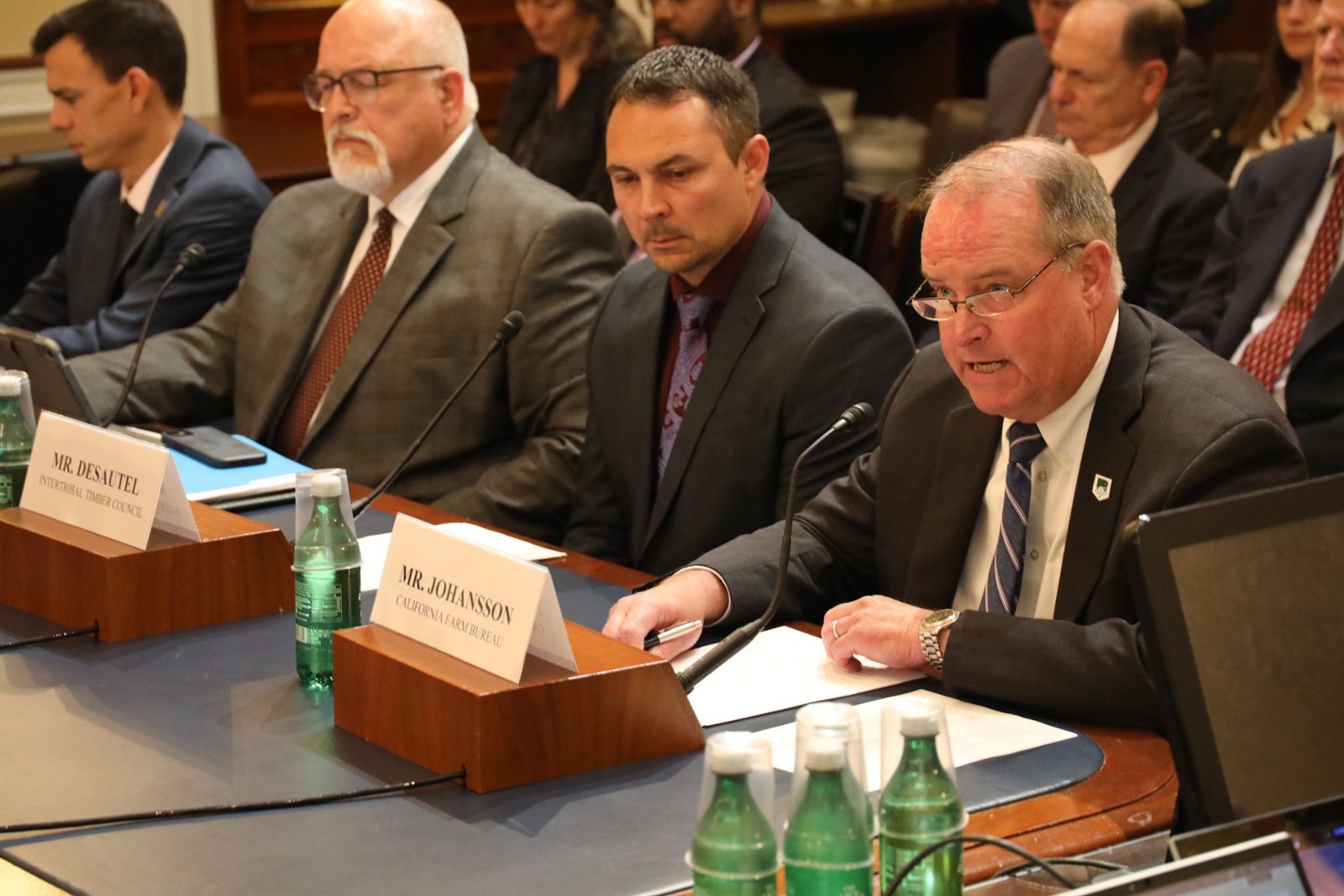 California Farm Bureau President Jamie Johansson testifies before a subcommittee of the House Committee on Natural Resources.
Photo/ Committee on Natural Resources
---
By: Christine Souza
In light of dire wildfire challenges, California Farm Bureau President Jamie Johansson today called for increasing the pace and scale of forest management, including employing livestock grazing and prescribed burns to reduce dangerous fuels and protect communities and the environment.
Johansson testified in Washington, D.C., before a federal lands subcommittee of the House Committee on Natural Resources.
Speaking on behalf of California farmers and ranchers, Johansson expressed concern about those affected by wildfires.
"With the presence of 18 national forests in California, nearly half the 100 million acres in our state are managed by the federal government," he said. "Given the extensive number of wildfire related impacts in California, California Farm Bureau has a vested interest in quality and quantity of forest management activities."
In California, wildfires have caused significant direct and indirect impacts to the $50 billion agriculture industry, posing safety threats to farms, ranches, wineries, employee housing, equipment, livestock and commodities.
Johansson, who grows olives and citrus fruit in Oroville in Butte County, noted that this is an issue raising deep concerns for many farmers in the state.
Johansson said he has heard from California Farm Bureau members who conveyed wildfire concerns, including over livestock safety and evacuation, smoke and ash affecting crop harvests, energy uncertainty and fire insurance policies being terminated after major events.
"California's wildfires are very personal to me," Johansson said. "As president of my organization, I have witnessed and heard numerous stories of loss and frustration from our members. In addition, my employees and my family have been wildfire evacuees." Johansson called for stepping up fire mitigation efforts on federal lands in California to reduce the threat.
As part of a panel discussion, Johansson advocated support for the FIRESHEDS (Forest Improvements through Research and Emergency Stewardship for Healthy Ecosystem Development and Sustainability) Act, introduced this month by Rep. Blake Moore, D-Utah.
The bill amends the Healthy Forests Restoration Act of 2003 to establish emergency management areas for fire safety.
"We especially like that this legislation provides flexibility, allowing agreements to be updated as new wildfire threats emerge," Johansson testified. "The bill also smartly allows fire shed areas to contain both federal and nonfederal land, furthering collaboration and partnership."
The act would allow governors to enter into joint agreements with federal land management agencies to designate emergency fire shed management areas in the top 10% of wildfire danger.
(Christine Souza is an assistant editor of Ag Alert. She may be contacted at csouza@cfbf.com.)